Want to buy Complex Proteases (CAS Number: 102925-54-2) for pet attractant in bulk? Enzymes.bio is a wholesale supplier for enzymes at competitive prices. As a manufacturer, we offer a variety of enzyme products.
Similar Complex Proteases
Enzymes for Pet Attractant Description
Enzymes for Pet Attractants are complex proteases. They help to break down animal protein to increase the yield and solubility of protein hydrolyzates, enhance the flavor of protein hydrolyzates.
Enzymes for Pet Attractant Characteristics
| | | |
| --- | --- | --- |
| Items | PF116 | FF104 |
| Physical Appearance | brown Powder | Pale brown to dark brown Powder |
| Optimum pH | 5.0-8.0 | 6.0-8.0 |
| Optimum Temperature | 45-60℃ | 50-55℃ |
PF116 (CAS Number: 102925-54-2)
Increase hydrolysis of protein up to 60% and amino nitrogen to 2.5g/100g(dry matters), reduce the viscosity of reaction system.
The effective utilization of protein can be over 75%.
FF104 (CAS Number: 102925-54-2)
FF-104 contain both endo-protease and exo-peptidase to eliminate low hydrolysis product of bitter peptide, and enhance the flavor of final products.
Applications
Processing:
Dealing with raw material (Mince and Homogenize) → warm-up → Add enzymes and reaction → Heat and inactivate the enzymes
Recommend dosage: 1-4‰ of PF116 + 1-3‰ of FF104
Reaction: 50-60℃ for 2-3 hours at natural pH.
Inactivate the enzymes: heat to 90℃ for 20mins.
Testing: PF116 and FF101 treat on chicken liver

Results: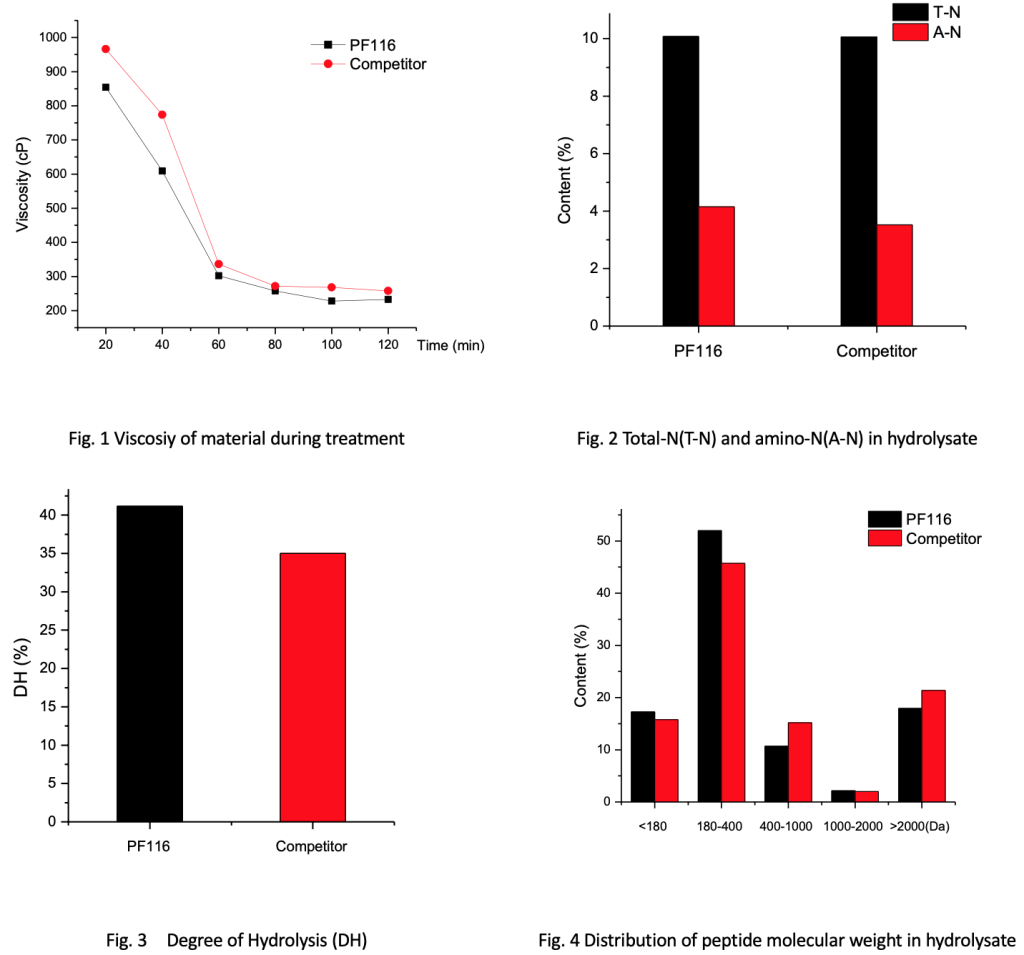 Specifications
Sealed in the aluminum foil bag, with a fiber outer drum, net weight 1KG *20 bags/ drum.
Storage
Transport and store in a cool dry place and avoid direct exposure to sunlight or moisture. Stored below 25℃ in the original sealed package, the activity of solid enzyme remains stable for a period of up to 18 months.
After using, please make sure the package is sealed if it hasn't been completely used.
Precautions
Angel complex protease is a non-toxic, but long time contact with may irritate the skin and eyes. The dust may cause sensitization when inhaled. Please take precautions to avoid direct contact with the product. Rinsing thoroughly with a copious amount of warm water with soap in case of contact with the skin, Seek medical advice if lung irritation occurs. During the operation, a gauze mask and eyeshade are suggested to wear.