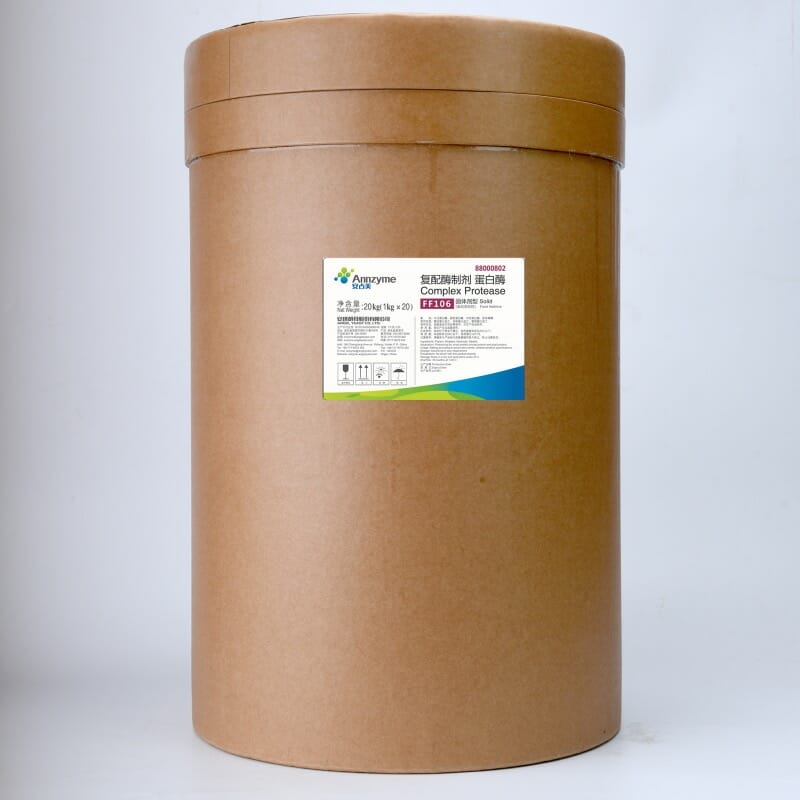 Want to buy Complex Protease in bulk? Enzymes.bio is a wholesale supplier for enzymes at competitive prices. As a manufacturer, we offer a variety of enzyme products.
Complex Protease FF106 Description
The Complex Protease FF106 is the polypeptide exo-protease produced by fermentation of Aspergillus oryzae and an endo-protease produced by fermentation of Bacillus subtilis in a certain proportion, acting on different positions of protein molecular peptide chains. It is decomposed into small molecular peptides and amino acids, which specifically cleaves the terminal amino acids of the bitter peptides to form flavor peptides, which reduces the bitterness of the product and enhances the flavor of the product.
Complex Protease FF106 Characteristics
| | |
| --- | --- |
| Items | Parameters |
| Types | FF106 |
| Appearance | Gray-white to light brown powder |
| Activity | 70,000U/g |
| pH | 7.0-9.0 |
| Temperature | 50-55℃ |
Advantages
Weaken the bitterness
Enhance the flavor
Coordinate the taste Improve Amino nitrogen content
Application Data
Usage
Recommended dosage: 0.5-1‰.
The optimal dosage should be determined according to the specific experiment.
Recommend to use it together with Complex Protease EF108.
Specifications
Aluminum foil bag packaging
1kg×20/Bucket
Storage
The product should be kept in a dry place under 4℃ and avoid direct sunlight.
Shelf time: 18months
Precautions
The enzyme preparation is a biological product that contains large amounts of protein. The dust may cause allergy when inhaled. Please take precautions to avoid directly contacting the product.
In case of contact with the skin or eyes, rinse thoroughly with a copious amount of water. Seek medical advice if lung irritation occurs.