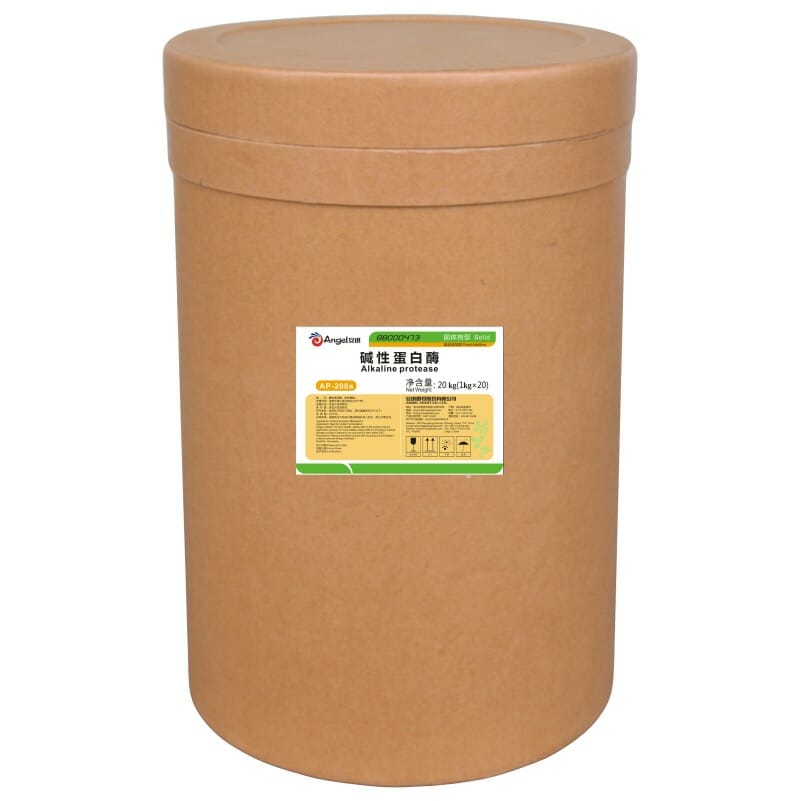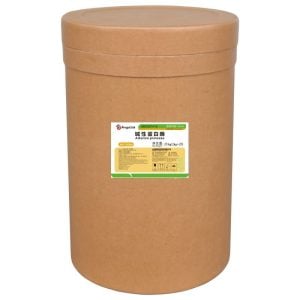 Wil je Alkalische Protease in bulk kopen? Enzymes.bio is een groothandel in enzymen tegen concurrerende prijzen. Als fabrikant bieden wij een verscheidenheid aan enzymproducten..
Alkalische Protease AP-200a Beschrijving
Alkalisch Protease enzym (CAS-nummer: 9014-01-1) AP-200a is een enzym dat geproduceerd wordt door ondergedompelde fermentatie van Baclicus lincheniformis dat macromolecule-eiwitten hydrolyseert en breekt in vrije aminozuren of peptiden.
Alkalische Protease Eenzyme AP-200a Kenmerken
| | |
| --- | --- |
| Artikelen | Solide |
| Fysieke verschijning | Lichtgeel tot lichtbruin poeder |
| Dichtheid | ≥80% (maaswijdte 40) |
| Effectieve pH | 6.0-12.0 |
| Optimale pH | 9.0-9.5 |
| Effectieve temperatuur | 40-60℃ |
| Optimale temperatuur | 50-55℃ |
| Verlies op Droog | ≤10% |
Kenmerken
Het is een serine endo-eiwitase en kan het macromolecuul-eiwit hydrolyseren tot poly-peptide en aminozuur.
De activiteit van alkalische protease wordt gemakkelijk geactiveerd door het metaalion Ca2+, Mg2+, Zn2+, Fe2+, het is ongevoelig voor EDTA, zware metalen en sulfhydrylreagentia,
Het activiteitencentrum bevat serine, zodat het reagens dat werkt op sulfonylhalogenide alkalische protease inactivering kan maken.
Toepassingen
Voedselindustrie: Gebruikt in de hydrolyse van dierlijke en plantaardige eiwitten en eiwitten van zeevruchten in hydrolysaten vol polypeptiden of aminozuren met een unieke smaak, waardoor corresponderende kruidenproducten worden geproduceerd.
Afhankelijk van de verschillende soorten substraat en de verschillende substraatconcentraties is de aanbevolen dosering van alkalische protease 1 ‰ – 3 ‰. Om het product snel te combineren met het substraat. Het wordt aanbevolen om het eerst op te lossen in verwerkingswater en dan toe te voegen.
Specificaties
Verzegeld in aluminiumfolie binnenzak, met een papieren buitenvat
Netto gewicht 1kg:20bags/bak.
Opslag
Transporteren en opslaan op een koele, droge plaats en directe blootstelling aan zonlicht of vocht vermijden. Opgeslagen onder 25℃ in originele verzegelde verpakking, blijft de activiteit van stevig enzym stabiel voor een periode van zelfs 18 maanden, voor langere houdbaarheid te houden gelieve onder 4℃.
Tijdens de opslag en het gebruik, vermijd het contact met zwaar-metaalionen (Fe3+, Cu2+, Hg+, Pb+) en oxidatiemiddel.
Na het gebruik, gelieve ervoor te zorgen het pakket wordt verzegeld als het niet volledig is gebruikt.
Voorzorgsmaatregelen
De Alkalische protease is een niet-toxische, maar lange tijd contact met kan de huid en de ogen irriteren. Het stof kan sensibilisatie veroorzaken bij inademing. Neem voorzorgsmaatregelen om direct contact met het product te vermijden. Spoel grondig met een ruime hoeveelheid warm water met zeep in geval van contact met de huid, raadpleeg een arts als er longirritatie optreedt. Tijdens de operatie worden een gaasmasker en een oogmasker aanbevolen.
Enzymen – Alkaline Protease Enzyme CAS 9014-01-1