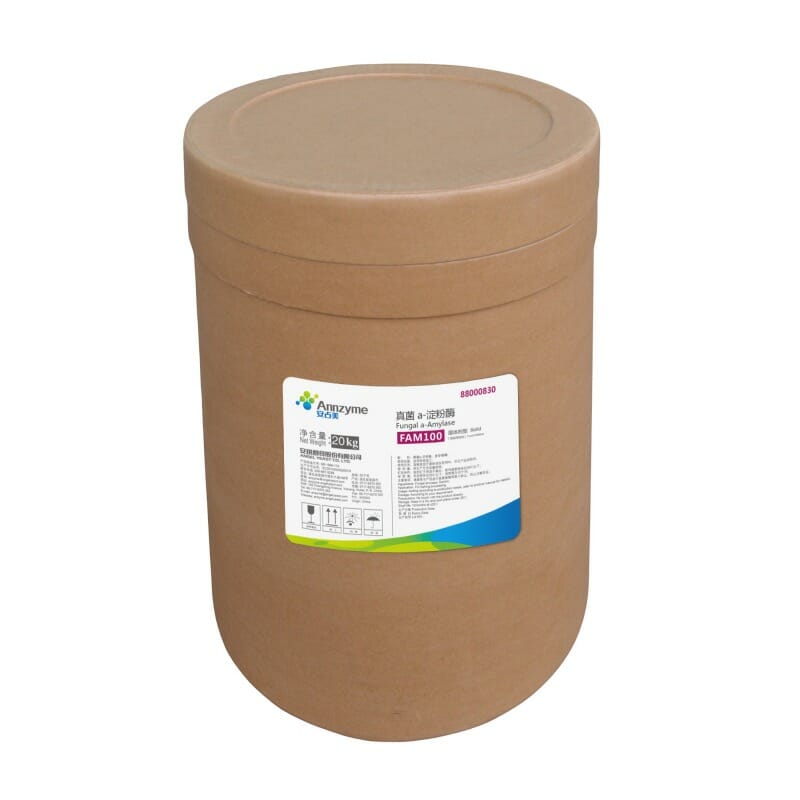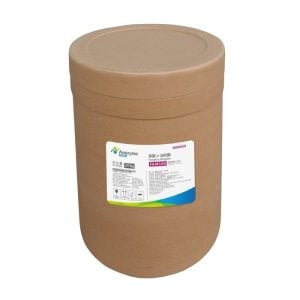 Wil je het Fungal Alpha Amylase enzym in bulk kopen? Enzymes.bio is een groothandel in enzymen tegen concurrerende prijzen. Als fabrikant bieden wij een verscheidenheid aan enzymproducten..
Schimmelalpha-amylase Beschrijving
Schimmel alfa-amylase (Fungal α-Amylase) (CAS-nummer: 9001-19-8) FAM100, die is gemaakt van de beste stam van Aspergillus oryzae door middel van de Submerged fermentatie en extractie techniek. Het is endo-amylase, dat amylose en amylopectine snel kan hydrolyseren in een waterige oplossing α-1, 4 glycosidebinding, waardoor hoge niveaus van maltose en een kleine hoeveelheid maltotriose, glucose en andere oligosacchariden worden gegenereerd. Het is een enzym dat veel gebruikt wordt in de bakkerij-industrie.
Schimmel Alfa Amylase Enzym Poederkenmerken
Artikelen
Schimmel α-Amylase
(Schimmel-Amylase)
Fysieke verschijning
Wit tot grijs poeder
EG-Code
3.2.1.1
pH
4.5-7.0
Temperatuurskoorts
30-60℃
Schimmelalpha Amylase Enzym Functie
Versnel de fermentatie van het deeg, verkort de rijstijd;
Verbeteren en verzachten van de inwendige structuur van brood of gestoomd broodje;
Verbeter het volume van brood of gestoomd broodje, stabiliseer het oppervlak en verbeter de kleur van de korst;
Standaardisatie van de bloem in termen van diastatische activiteit.
Bereik van de toepassing
Geschikt voor meelmalen en broodmeelverbeteraar.
Aanbevolen gebruik
5ppm~20ppm (0.5-2g/100kg bloem)
Optimale dosering wordt bevestigd door meel natuur en bakken experiment.
Wijze van toepassing
Voeg het direct aan de bloem toe of voeg het samen aan de bloem toe na het mengen met andere doseringen.
Verpakking
20kg/vat.
Opslag
Transporteren en opslaan op een koele, droge plaats en directe blootstelling aan zonlicht of vocht vermijden. Opgeslagen onder 25℃ in de originele verzegelde verpakking, blijft de activiteit van vast enzym stabiel voor een periode van maximaal 18 maanden. De houdbaarheid kan worden verlengd wanneer deze wordt opgeslagen bij 5 ℃.
Meer over Alpha Amylases
A-amylasen worden het meest gebruikt in bakkerijen vanwege hun smaakontwikkeling en anti-staling effect.
– Ze hebben ook een positief effect op de ontwikkeling van het deeg.
Amylasen kunnen inwerken op beschadigd of gegelatineerd zetmeel.
Passende doseringen van amylase kunnen het deeg en het eindproduct verbeteren.
Significante afbraak van beschadigd zetmeel door te hoge a-amylaseconcentraties leidt tot een kleverig deeg.
Het volume en de structuur van de kruimel verbeteren naarmate er meer amylase aan het meel wordt toegevoegd.
Amylasen hebben een significant effect op gegelatineerd amorf zetmeel.