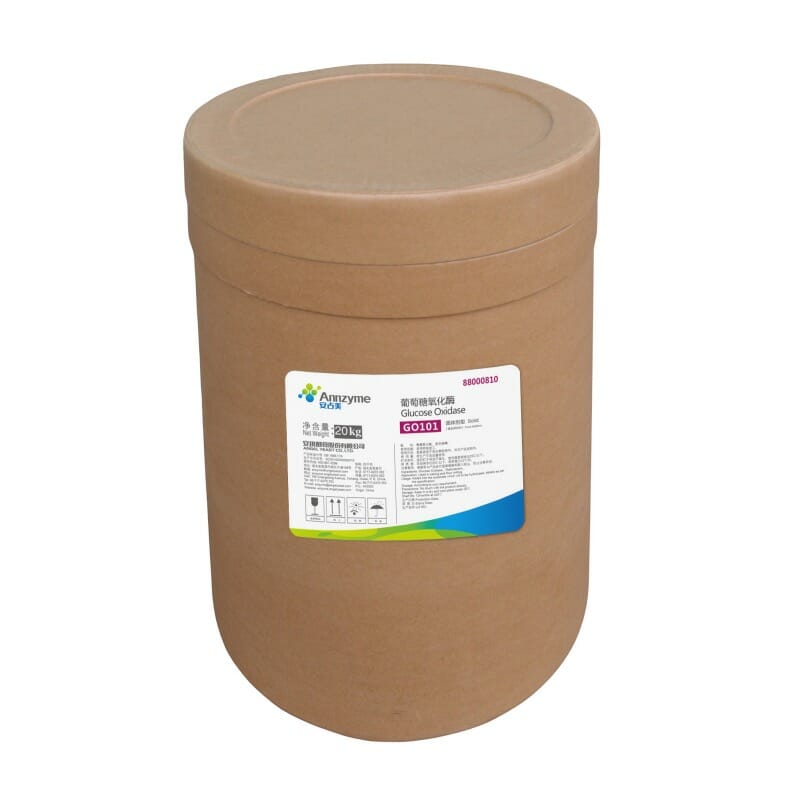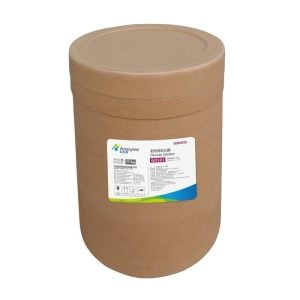 Wil je Glucose Oxidase (food grade) enzyme in bulk kopen? Enzymes.bio is een groothandel in enzymen tegen concurrerende prijzen. Als fabrikant bieden wij een verscheidenheid aan enzymproducten.
Glucose Oxidase enzymproduct GO101 Omschrijving
Het Glucose Oxidase (food grade) Enzymproduct (CAS-nummer: 9001-37-0) GO101, dat veel gebruikt wordt in de bakkerij en voedingsindustrie, is gemaakt van de beste stam van de Aspergillus niger stam door middel van de Submerged fermentatie en extractie techniek. Dit product behoort tot de aërobe dehydrogenase. Onder de oxidische bestaande voorwaarde, kan het glucose in gluconzuur overbrengen en peroxide produceren dat een soort van sterke oxidator is.
Door het peroxide kan de mercapto groep (-SH) in de glutenmoleculen geoxideerd worden tot de disulfidebinding (-S-S-), waardoor de sterkte van het gluten wordt versterkt. Verbeter de uitbreidbaarheid van het deeg, vergroot het volume van het brood, je kunt het kaliumbromaat KBrO4, dat kanker kan veroorzaken, vervangen. Bij de productie van noedels zou glucose-oxidase helpen om een goede eiwitnetwerkstructuur te vormen en de beet van de noedels te verhogen.
Glucoseoxidase enzymproduct GO101 Kenmerken
| | |
| --- | --- |
| Artikelen | Solide |
| Fysieke verschijning | Geelachtig poeder |
| EG-Code | 1.1.3.4 |
| pH | 5.0 ~ 9.0 |
| Temperatuurbereik | 30 ~ 55℃ |
Glucose Oxidase Functie
Verbetering van de operationele prestaties van het deeg;
Verbeteren van de stabiliteit van het deeg;
Verbeteren van de inflatie snelheid en de kwaliteit van het brood;
Goede synergie met andere enzymen of meelverbeteraars;
Goede liquiditeit.
Gebruik
Toepassingsgebied
Geschikt voor meelmalen en broodmeelverbeteraar als bakenzymen.
Aanbevolen dosering
4ppm~20ppm(0.4-2.0g/100kg flour)
Optimale dosering wordt bevestigd door meel natuur en bakken experiment.
Wijze van toepassing
Voeg het direct aan de bloem toe of voeg het samen aan de bloem toe na het mengen met andere doseringen.
Verpakking
20kg/vat
Opslag
Transporteren en opslaan op een koele, droge plaats en directe blootstelling aan zonlicht of vocht vermijden. Opgeslagen onder 25℃ in originele verzegelde verpakking, blijft de activiteit van stevig enzym stabiel voor een periode van zelfs 12 maanden. De houdbaarheid kan worden verlengd wanneer deze wordt opgeslagen bij 5 ℃.
Glucose Oxidase Bulk Prijs
Wij leveren hoogwaardige Glucose Oxidase en andere enzymproducten tegen concurrerende prijzen. Stuur ons een aanvraag voor meer informatie.
Meer over Oxidasen
Bij de broodproductie moet de driedimensionale structuur van de eiwitten worden gestabiliseerd door middel van oxidatiemiddelen.
Kleine hoeveelheden oxiderende reagentia, zoals kaliumbromaat of dehydroascorbinezuur, verbeteren de behandeling van het deeg en de bakeigenschappen ervan, waardoor het volume van het brood toeneemt en het kruim wordt verbeterd.
Glucose-oxidase heeft een goede oxiderende werking, wat resulteert in een steviger deeg.
Het kan worden gebruikt ter vervanging van oxidanten zoals bromaat en ascorbinezuur in recepten en bakprocessen.
Het is een uitstekend deegversterkingsmiddel met ascorbinezuur.