Chcesz kupić Proteazy Kompleksowe (Numer CAS: 102925-54-2) dla atraktantów dla zwierząt domowych luzem? Enzymes.bio jest hurtowym dostawcą enzymów w konkurencyjnych cenach. Jako producent oferujemy szeroką gamę produktów enzymowych..
Podobne proteazy złożone
Enzymy dla zwierząt domowych Atraktant Opis
Enzymy dla atraktantów dla zwierząt domowych to złożone proteazy. Pomagają rozkładać białko zwierzęce w celu zwiększenia wydajności i rozpuszczalności hydrolizatów białkowych, wzmacniają smak hydrolizatów białkowych.
Enzymy dla zwierząt domowych Atraktanty Charakterystyka
| | | |
| --- | --- | --- |
| Pozycje | PF116 | FF104 |
| Wygląd fizyczny | Proszek brązowy | Jasnobrązowy do ciemnobrązowego Proszek |
| Optymalne pH | 5.0-8.0 | 6.0-8.0 |
| Temperatura optymalna | 45-60℃ | 50-55℃ |
PF116 (numer CAS: 102925-54-2)
Zwiększyć hydrolizę białka do 60% i azotu aminowego do 2,5g/100g(dry ma znaczenie), zmniejszyć lepkość układu reakcyjnego.
Efektywne wykorzystanie białka może wynosić ponad 75%.
FF104 (numer CAS: 102925-54-2)
FF-104 zawiera zarówno endo-proteazę, jak i egzo-peptydazę w celu wyeliminowania niskiego produktu hydrolizy gorzkiego peptydu i wzmocnienia smaku produktów końcowych.
Zastosowania
Przetwarzanie:
Umieszanie z surowcem (Mince and Homogenize) →grzanie →Dodawanie enzymów i reakcji →Podgrzewanie i inaktywacja enzymów
Polecić dawkę: 1-4‰ PF116 + 1-3‰ FF104
Reakcja: 50-60℃ przez 2-3 godziny przy naturalnym pH.
Dezaktywacja enzymów: podgrzewanie do 90℃ przez 20mins.
Testowanie: PF116 i FF101 działają na wątrobę kurczaka

Wyniki: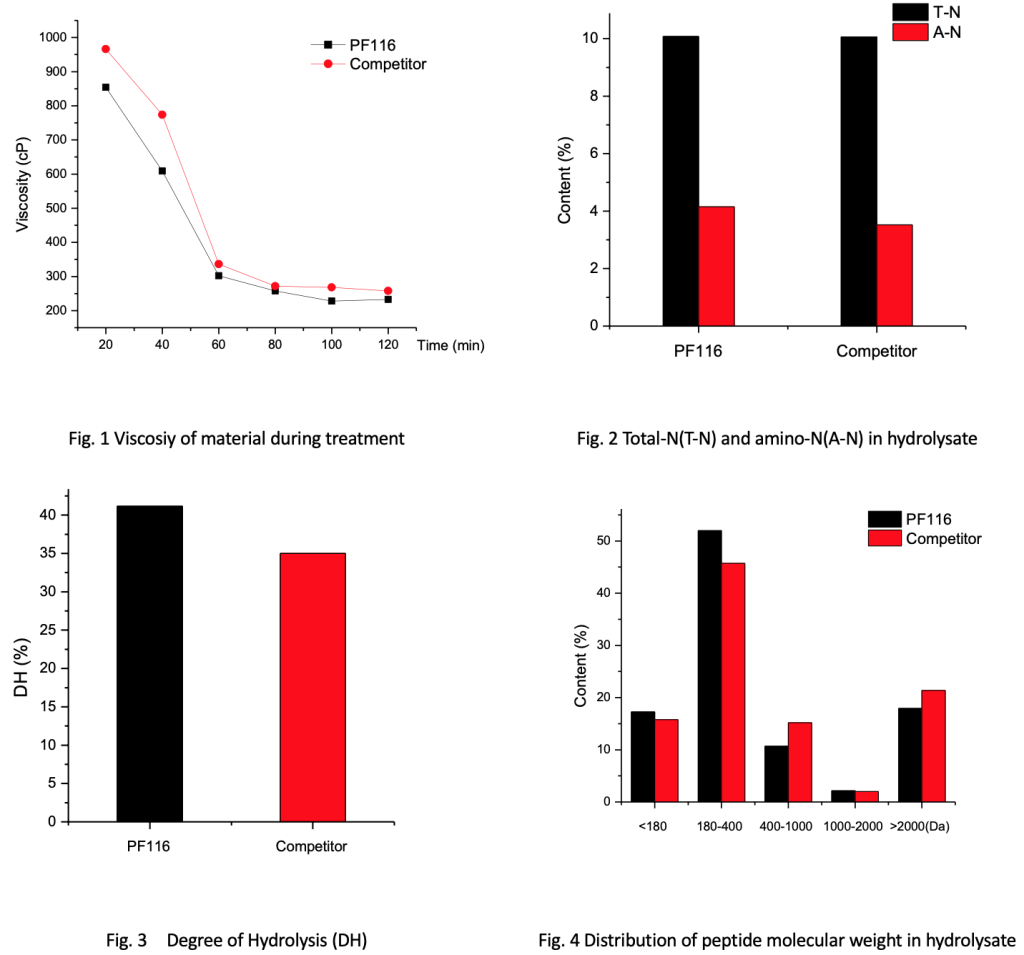 Specyfikacje
Zamknięty w worku z folii aluminiowej, z zewnętrznym bębnem z włókna, waga netto 1KG *20 worków/bębna.
Przechowywanie
Transport i przechowywanie w chłodnym i suchym miejscu oraz unikanie bezpośredniego narażenia na działanie promieni słonecznych lub wilgoci. Przechowywany poniżej 25℃ w oryginalnie zamkniętym opakowaniu, aktywność stałego enzymu pozostaje stabilna przez okres do 18 miesięcy.
Po użyciu należy upewnić się, że opakowanie jest szczelnie zamknięte, jeśli nie zostało całkowicie wykorzystane.
Środki ostrożności
Proteaza Angel complex jest nietoksyczna, ale długotrwały kontakt z nią może podrażniać skórę i oczy. Pył może powodować uczulenia przy wdychaniu. Należy podjąć środki ostrożności, aby uniknąć bezpośredniego kontaktu z produktem. W przypadku kontaktu ze skórą należy dokładnie spłukać dużą ilością ciepłej wody z mydłem, W przypadku podrażnienia płuc należy zasięgnąć porady lekarza. Podczas zabiegu zaleca się założenie maski gazowej i cienia do oczu.