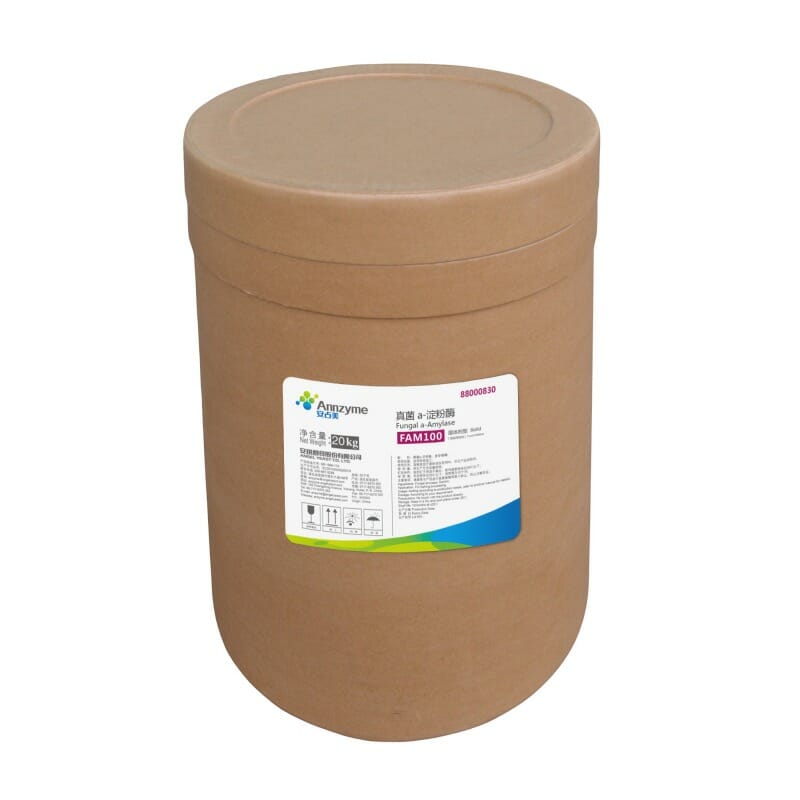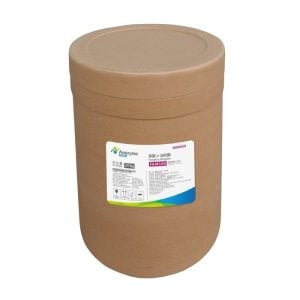 Chcesz hurtowo kupić enzym Alfa Amylazy Grzybowej? Enzymes.bio jest hurtowym dostawcą enzymów w konkurencyjnych cenach. Jako producent oferujemy różnorodne produkty enzymowe.
Grzybica Alfa Amylaza Opis
Grzybicza alfa-amylaza (Alfa-Amylaza Grzybowa) (numer CAS: 9001-19-8) FAM100, która jest wytwarzana z najlepszego szczepu Aspergillus oryzae za pomocą techniki fermentacji zanurzeniowej i ekstrakcji. Jest to endo-amylaza, która może szybko hydrolizować amylozę i amylopektyny w roztworze wodnym α-1, wiązanie 4 glikozydowe, generując wysoki poziom maltozy i niewielką ilość maltotriozy, glukozy i innych oligosacharydów. Jest to enzym szeroko stosowany w przemysł piekarniczy.
Grzybicze Alpha Amylaza Enzymu w proszku Charakterystyka
Pozycje
Grzybica α-Amylaza
(Grzybica Alfa Amylaza)
Wygląd fizyczny
Biały do szarego proszek
Kodeks WE
3.2.1.1
pH
4.5-7.0
Temperatura Wędrówka
30-60℃
Grzybicze enzymy alfa-amylazy Funkcja
Przyspieszyć fermentację ciasta, skrócić czas garowania;
Poprawić i zmiękczyć wewnętrzną strukturę chleba lub bułki parzonej;
Zwiększyć objętość chleba lub bułki parzonej, ustabilizować powierzchnię i poprawić kolor skórki;
Standaryzacja mąki w zakresie aktywności diastatycznej.
Zakres zastosowania
Nadaje się do mielenia mąki i polepszacza mąki chlebowej.
Zalecany sposób użycia
5ppm~20ppm (0.5-2g/100kg mąki)
Optymalne dozowanie jest potwierdzone przez naturę mąki i eksperyment piekarniczy.
Sposób stosowania
Dodaj go bezpośrednio do mąki lub dodaj do mąki razem po zmieszaniu z innymi dawkami.
Opakowanie
20kgs/baryłkę.
Przechowywanie
Transport i przechowywanie w chłodnym i suchym miejscu oraz unikanie bezpośredniego narażenia na działanie promieni słonecznych lub wilgoci. Przechowywany poniżej 25℃ w oryginalnie zamkniętym opakowaniu, aktywność stałego enzymu pozostaje stabilna przez okres do 18 miesięcy. Okres trwałości może zostać przedłużony w przypadku przechowywania w temperaturze 5℃.
Więcej o alfa amylazach
A-amylazy są najczęściej stosowane w piekarniach ze względu na ich rozwój smakowy i działanie przeciwstarzeniowe.
– Mają one również pozytywny wpływ na rozwój ciasta.
Amylazy mogą działać na uszkodzoną lub żelatynowaną skrobię.
Odpowiednie dawki amylazy mogą poprawić jakość ciasta i produktu końcowego.
Znaczna degradacja uszkodzonej skrobi przez zbyt wysokie stężenie amylazy prowadzi do powstania kleistego ciasta.
Objętość i struktura miękiszu poprawiają się wraz ze wzrostem zawartości amylazy dodanej do mąki.
Amylazy mają znaczący wpływ na żelatynowaną skrobię amorficzną.