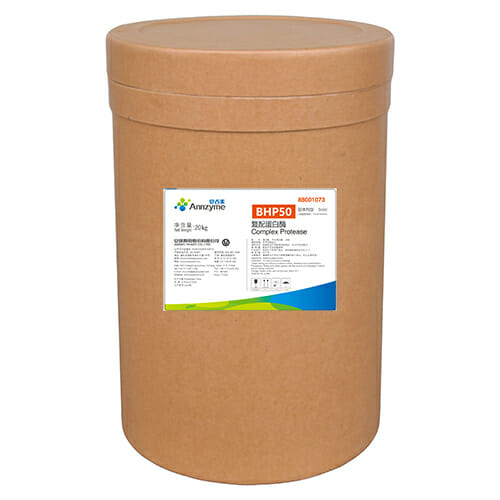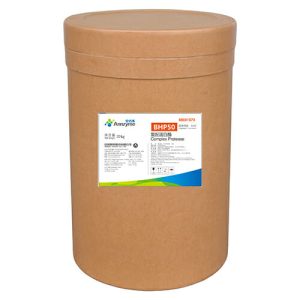 Enzym proteazowy BHP-50 OPIS
Enzym proteazowy BHP50 (numer CAS: 9068-59-1) to proteaza otrzymywana z Bacillus subtilis przez głęboką fermentację i oczyszczanie. Enzym ten jest stosowany specjalnie w celu skrócenia czasu odpoczynku ciasta, poprawy wydłużenia ciasta i obróbki ciasta w ciastkach i krakersach.
SPECYFIKACJA
| | |
| --- | --- |
| Szczególne właściwości | |
| Opis wizualny | Proszek od szarego do jasnobrązowego |
| Zapach | Typowy zapach fermentacji |
| Strata na suszeniu | ≤ 10% |
| Metale ciężkie | |
| Pb | ≤ 5,0 mg/kg |
| Jak | ≤ 3,0 mg/kg |
| Specyfikacja mikrobiologiczna | |
| Łączna liczba płyt | ≤ 5×104 CFU/g |
| Coliforms | ≤ 30 CFU/g |
| E.coli | ≤ 10 CFU/g |
| Salmonella | Nie wykryto / 25g |
ZASTOSOWANIE
Skróćcie czas odpoczynku.
Poprawić rozszerzalność ciasta.
Usprawnić obróbkę ciasta.
DOSAGE
10-100 ppm (1,0-10,0g/100kg mąki)
Optymalna dawka powinna być określona za pomocą baking testy
OPAKOWANIE
20Kg/baryłkę
MAGAZYN
Powinien być przechowywany w suchym miejscu, z dala od światła słonecznego o temperaturze poniżej 25°C. Okres trwałości wynosi 24 miesiące i może być przedłużony przez chłodzenie w temperaturze 5°C.
BEZPIECZEŃSTWO I ŚRODKI OSTROŻNOŚCI
Enzymy są białkami. Wdychanie pyłu może powodować reakcje alergiczne u osób uczulonych. Niektóre enzymy mogą podrażniać skórę, oczy i błony śluzowe przy długotrwałym kontakcie. Dla osób wrażliwych na proszek z enzymami należy nosić kombinezony z maskami przeciwpyłowymi i rękawicami. W razie przypadkowego kontaktu ze skórą lub oczami należy natychmiast przepłukać je dużą ilością wody.
Więcej informacji
Proteazy są tradycyjnie stosowane do obróbki "wgniecionego" ciasta, które jest wykonane z mąki zbyt mocnej i zbyt elastycznej.
Celem dodawania proteaz jest poprawa elastyczności, właściwości jezdnych ciasta oraz jego obrabialności.
Funkcjonalne efekty działania enzymów proteolitycznych są następujące:
Skrócenie czasu mieszania
Poprawa przetwarzalności masy papierniczej
Lepsze zatrzymywanie gazu dzięki większej rozszerzalności
Poprawa przepływu na patelni w produkcji rolek i bułek
Poprawa tekstury miękiszu
Poprawa absorpcji wody
Poprawa koloru i smaku
Stosuje się je
– Aby zmniejszyć lepkość zawiesiny mąki zbożowej
– Aby uniknąć kontroli podczas pieczenia ciastek
– Opóźnienie zamykania okruchów ciasta
Zastosowanie pośrednich termostabilnych proteaz zasadowych
– Powiedzmy wpływ na miękkość
– Spowolnienie twardości okruchów
– Przedłuża to okres trwałości.
Konkretne proteazy mogą być również stosowane w celu poprawy smaku ciast.