Selling unit: per 100ml
Product Name
Common name:: Full C-reactive protein (ultrasensitive + common) (CRP) assay kit (immunoturbidimetric method)
English name:: C-REACTIVE PROTEIN(CRP) Assay Kit (Immunoturbidimetric Method)
Reagent Ratio
3:1, 4:1, 5:1, common ratio 3:1, other ratios need to be customized
Intended Use
This kit is used to determine the amount of CRP in human serum.
CRP is an acute time-phase reactive protein. CRP is elevated in the serum of patients during inflammation of the organism. It is especially elevated in a variety of diseases such as pneumococcal infections and tissue infections. In 1930, CRP was discovered by Tillet et al in the serum of patients with acute infections, and now CRP has become a sensitive indicator for the detection of infection and inflammation. It is also useful for surveillance of patients such as surgery and for early diagnosis of infection in infants. It has also been found that high levels of CRP within the normal range of values are associated with mortality from cardiac disease and are an independent risk factor for cardiovascular disease.
Test Principle
The CRP in the sample reacts with the hypersensitized anti-CRP antibody latex particle reagent to form an immune complex, and the change in turbidity is detected at a wavelength of 572 nm, which is proportional to the amount of CRP in the sample.
Main Components
Reagent components included in the product.
*Components are not interchangeable in kits with different lot numbers.
*Reagent components not included in the product, but necessary for the test: outsourced normal and abnormal QCs and calibrators.
Storage Conditions And Expiration Date
The kit is stored at 2-8°C away from light and is valid for one year.
Reagents that have been opened are taken care not to be contaminated and the reagents are stabilized in the instrument compartment (2-8°C) for one month.
The reagents must not be frozen.
Applicable Instruments
Hitachi 7180/7600; Olympus AU680/2700; Toshiba TBA120; Myriad BS2000M/480; Siemens ADVIA1800/2400 series automatic biochemical analyzers, and Celsius specific protein analyzer HD-III.
Sample Request
Serum samples. Specimens can be stored at 2-8°C for 7 days and -20°C for 3 months.
Test Method
Reagent preparation: liquid reagents are ready to use out of the bottle.
test conditions: (different test instruments can be requested according to the different parameters on the machine)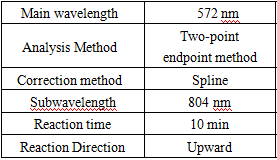 Operation steps.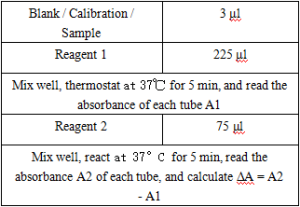 *Reagents and sample volumes can be increased or decreased in proportion to the requirements of different biochemical analyzers.
Calibration procedure.
Landau calibrators are recommended.
QC control procedures.
It is recommended that each laboratory establish its own quality control system and select appropriate quality control products for quality control. The measured values of QC products should be within the specified range. If outside the specified range, it is necessary to take appropriate measures or contact the manufacturer.
Calculation.
A calibration curve was made with the calibrator concentration against the corresponding ΔA, and the CRP concentration in the sample was read off the calibration curve by the ΔA of the sample.
Positive Judgment Value Or Reference Interval
Serum: 0.0 – 6.0 mg/L
It is recommended that each laboratory establish its own reference range of normal values.
Interpretation Of Test Results
The measurement of CRP in serum is only one of the indicators used by the clinician to make a diagnosis of the patient. The clinician must also make a comprehensive judgment based on the patient's physical symptoms, medical history, and other diagnostic items and diagnostic tools.
Limitations Of The Test Method
Interference with measurements was essentially unaffected for celiac disease ≤ 500 mg/dL, hemoglobin ≤ 500 mg/dL, and bilirubin ≤ 30 mg/dL.
Product Performance Index
Absorbance of reagent blank: wavelength 572 nm, optical diameter 1.0 cm, temperature 37°C, A0  ≤ 1.0.
Analytical sensitivity: the kit tests 3.0 mg/L of the analyte, the absorbance change value ΔA ≥ 0.01.
Linearity interval: test serum samples, reagent linearity in the interval of 0.0~320.0 mg/L, the linear correlation coefficient|r| should not be less than 0.990; in the interval of 0.0~10.0 mg/L, the absolute deviation of linearity should not exceed 2.0 mg/L; in the interval of (10.0~ 320.0 mg/L, the relative deviation of linearity should not exceed ±20%.
Precision: repeatability CV ≤ 10%; relative extreme difference between batches ≤ 10%.
Accuracy: Relative deviation ≤ 10%.
Caution
This product is for in vitro diagnosis only.
The reagent contains sodium azide, please rinse thoroughly with water immediately if you accidentally get into eyes or mouth or stain the skin, and go to hospital if necessary.
The reagent contains sodium azide, which can react strongly with copper, lead and other metals to form azide metal, so please fully dilute the waste solution and flush the drain when disposing to avoid residue in the drain.
Opened reagents should be stored airtight according to the designated method, and their use is prohibited after the expiration date.
Please dispose of test tubes and other instruments that have come into contact with test specimens in accordance with the relevant medical waste disposal regulations.
The calibrator and quality control are made of human matrix serum, which has been tested for HIV (HIV1, HIV2) antibodies, hepatitis B surface antigen (HbsAg) and hepatitis C virus (HCV) antibodies and found to be negative, although the assay is highly accurate and cannot guarantee that all infected donors can be detected, so the calibrator and quality control should also be treated as infectious specimens.
Reference
Claus, D.R., Osmaud, A.P., Gewurz, H; J. Lab. Clin. Med 87, 120-128 (1976).
Shire, B., de Beer, F.C., Pepys, M.B.; Clin. Chim. Acta 117, 13-23 (1981).