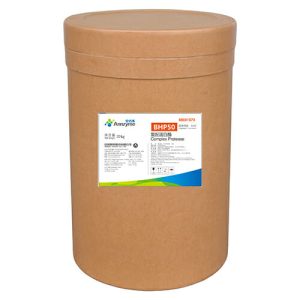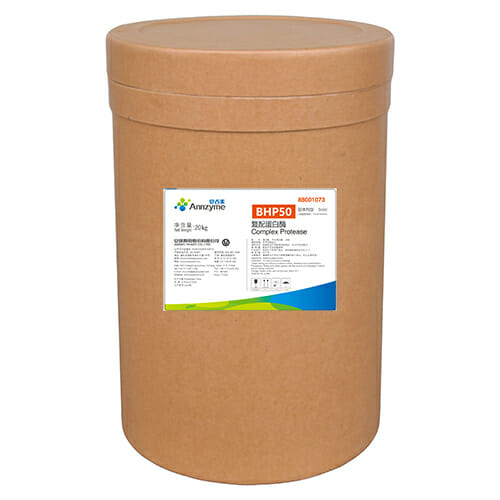 Protease Enzyme BHP-50 DESCRIPTION
Protease Enzyme BHP50 (CAS Number: 9068-59-1) is a protease obtained from Bacillus subtilis by deep fermentation and purification. This enzyme is specifically used to reduce dough resting time, improve dough extensibility and dough handling in biscuit and crackers.
SPECIFICATION
| | |
| --- | --- |
| Specific Properties | |
| Visual Description | Gray to light brown powder |
| Odour | Typical fermentation smell |
| Loss on drying | ≤ 10% |
| Heavy Metals | |
| Pb | ≤ 5.0 mg/kg |
| As | ≤ 3.0 mg/kg |
| Microbiological Specification | |
| Total Plate Count | ≤ 5×104 CFU/g |
| Coliforms | ≤ 30 CFU/g |
| E.coli | ≤ 10 CFU/g |
| Salmonella | Not Detected / 25g |
APPLICATION
Reduce resting time.
Improve dough extensibility.
Improve dough handling.
DOSAGE
10-100 ppm (1.0-10.0g/100kg flour)
The optimum dosage should be determined by means of baking tests
PACKAGE
20Kg/barrel
STORAGE
It should be stored in a dry place and away from sunlight below 25°C. The shelflife is 24 months and it can be extended by refrigeration at 5°C.
SAFETY AND PRECAUTIONS
Enzymes are proteins. Inhalation of dust may cause allergic reactions in sensitized individuals. Some enzymes may irritate the skin, eyes, and mucous membranes upon prolonged contact. For those who are sensitive to enzyme powder, wear overalls with dust masks and gloves. If you accidentally contact with your skin or eyes, rinse immediately with plenty of water.
More Information
Proteases are traditionally used to treat "dented" dough, which is made from flours that are too strong and too elastic.
The purpose of adding proteases is to improve the flexibility, dough handling properties, and machinability of the dough.
The functional effects of proteolytic enzymes are:
Reduction of the mixing time
Improving the processability of pulp
Improved gas retention due to improved extensibility
Improvement of the pan flow in the production of rolls and buns
Improvement of the crumb texture
Improvement of water absorption
Improvement of colour and taste
They are used
· To reduce the viscosity of cereal flour suspensions
· To avoid checks when baking cookies
· Delaying the sealing of cake crumbs
Use of intermediate thermostable alkaline proteases
· Say the effect on the softness
· Slowing down the hardness of the crumbs
· This extends the shelf life.
Specific proteases can also be used to improve the taste of cakes.