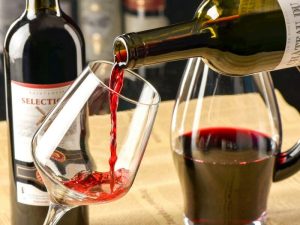 Enzymen zijn eiwitten met een aanzienlijke hoeveelheid stikstof. Ze zijn van groot belang bij de fermentatie en de biologische zuurafbraak. De voor de wijnbereiding noodzakelijke enzymen zijn van nature al te vinden op de druiven, in bacteriën of in de gist. Ook worden er oenologische enzympreparaten geproduceerd om de eigen enzymen van de druif aan te vullen of te ondersteunen. Dergelijke enzymen worden bij de wijnbereiding gebruikt om de sapopbrengst te verbeteren, aroma's vrij te geven, de kleurextractie te verbeteren, zachtere tannines te extraheren en de filtereigenschappen te verbeteren. De bijbehorende preparaten worden toegevoegd tijdens de verwerkingsstappen zoals persen, stamperfermentatie, gisting, malolactische gisting, klaring, veroudering en filtratie.
Enzymen gedragen zich als een katalysator in wijn, ze kunnen bijvoorbeeld de functie van gisten overnemen. Echter, de moderne wijnindustrie maakt vooral gebruik van enzymen om het sap te versnellen tijdens het persen, voor een snellere en veiligere pre-clarificatie van de most, om de kleuropbrengst te verhogen of om het filtreervermogen te verbeteren. Maar dit is nog niet alles.
Enzympreparaten zijn al lang beschikbaar die dienen om de aroma's te intensiveren. Ze versterken specifiek de intensiteit van het boeket en zorgen voor een overmatige nadruk op het type variëteit. Sauvignon Blanc, bijvoorbeeld, wordt op deze manier vaak "aromatisch versneld". Talrijke "luide" Sauvignons uit Stiermarken, Friuli en Zuid-Tirol, maar ook veel Nieuw-Zeelandse Sauvignons, suggereren dat ze aromatisch enzymatisch versterkt zijn. Zelfs het opvallend eenvoudige perzik- en abrikozenaroma van veel Rieslings is minder afkomstig uit de natuur dan de enzympreparaten.
Enzymproducten
Gluco-Amylase GA-150
Gluco-Amylase GA-260
Pectinase