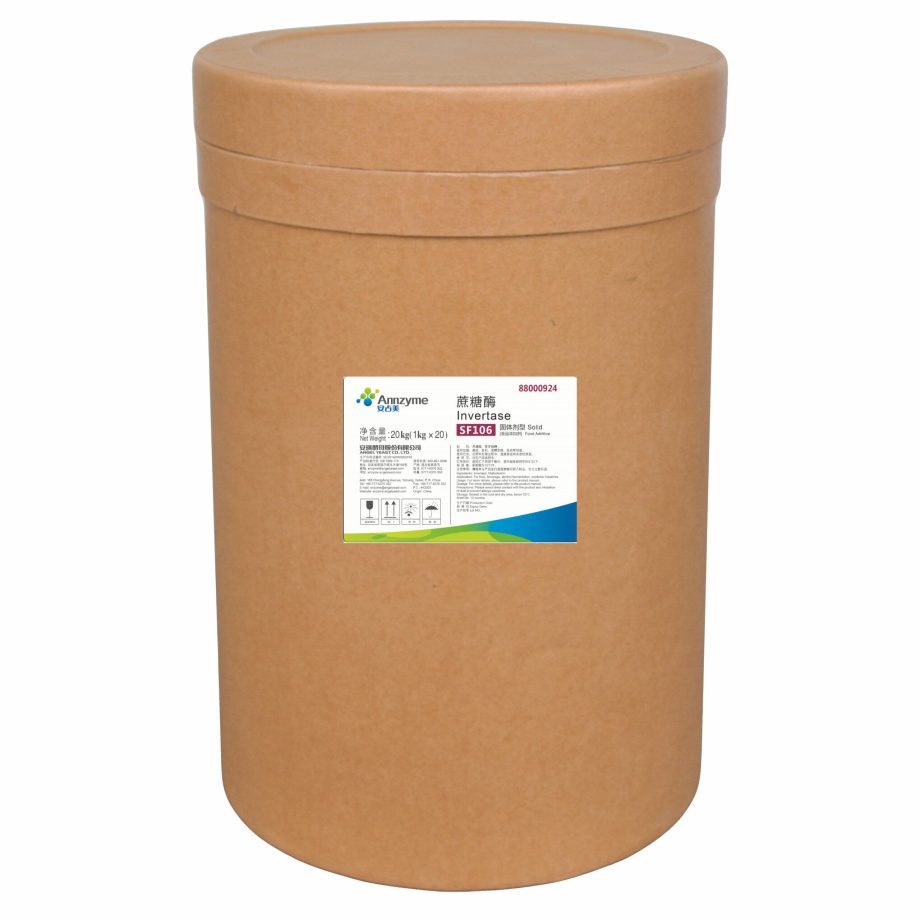 Wil je Invertase enzymen in bulk kopen? Enzymes.bio is een groothandel in enzymen tegen concurrerende prijzen. Als fabrikant bieden wij een verscheidenheid aan enzymproducten.
Omvormer Beschrijving
Invertase Enzym (CAS-nummer: 9001-57-4) SF106 is afgeleid door extractie en verfijning van de Saccharomyces cerevisiae stam. Het kan volledig ontleden sucrose in fructose en glucose met kenmerken van hoge zuiverheid en specificiteit. Het wordt veel gebruikt in de voedselverwerking en de alcoholindustrie.
Invertase SF106 Kenmerken
| | |
| --- | --- |
| Artikelen | Parameters |
| Verschijning | wit tot geelbruin poeder |
| EG-code | 3.2.1.26 |
| Optimale werking pH | 5.0-5.5 |
| Optimale werktemperatuur | 50-55℃ |
Invertase SF106 Voordelen
In de stroopindustrie vergemakkelijkt de omzetting van sacharose in glucose en fructose de kristallisatie van het product en verhoogt het de suikeropbrengst.
In de alcoholvergistingsindustrie, voeg sucrase toe na de versuikering van het zetmeel of in melasse, waardoor de alcoholconversiesnelheid direct wordt verhoogd.
Toepassingen en gebruik
Dit product zou kunnen worden gebruikt als de additieven, ingrediënten, en de biokatalysator op het gebied van voedsel, drank, alcoholfermentatie, en farmaceutische voorbereiding enz.
Voedselindustrie:
100g sacharose (droog)/0,03-0,05g Invertasepoeder, de optimale dosering te bepalen volgens het specifieke experiment.
Ethanolindustrie:  
0,02%-0,04% (op basis van de oorspronkelijke melasse)
Specificaties
Poeder, 600.000U/g
Verzegeld in aluminiumfolie zak met een vezel buitenste trommel
Netto gewicht: 1kg ×20 zak/emmer
20kg*1/emmer
Opslag
Het product indien opgeslagen bij 25℃ hieronder, 12 maanden houdbaarheid, als onder de 4~10℃ koude opslag, houdbaarheid is 18 maanden; onder garantie, gemeten activiteit niet minder duidelijke activiteit. Over houdbaarheid, kunnen de enzymen verminderen, maar kunnen nog worden gebruikt, zou het gebruik dienovereenkomstig moeten worden verhoogd.
Het product is bio-actieve substanties, zodat kunnen het zonlicht, de temperatuur, en de vochtigheid inactivering van enzymen veroorzaken. Daarom moet het product worden getransporteerd en opgeslagen op een koele, droge plaats. Vermijd directe blootstelling aan zonlicht of vocht. Magazijnen moeten schoon, koel en droog worden gehouden.
Voorzorgsmaatregelen
Het product is een bio-actieve stof, het inademen van stof of aërosols kan overgevoeligheid veroorzaken en kan allergische reacties veroorzaken bij gesensibiliseerde personen. Onnodig contact met het product en inademing van stof moet worden vermeden.
In geval van contact met de ogen of de huid, onmiddellijk spoelen met het getroffen gebied met veel water gedurende ten minste 15 minuten.
Enzymen – Invertase Enzym CAS 9001-57-4