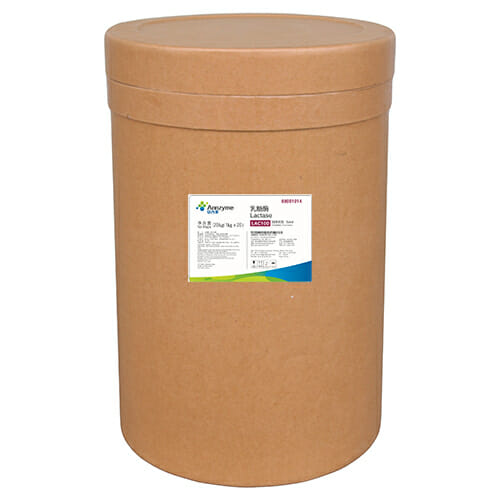 Want to buy Lactase enzymes in bulk? Enzymes.bio is a wholesale supplier for enzymes at competitive prices. As a manufacturer, we offer a variety of enzyme products.
Lactase Characteristics
Another name: β-galactosidase
CAS Number: 9031-11-2
Appearance: White powder
Stability performance: Thermal stability–heat preservation at 60℃ for 30min, the relative enzyme activity is 60.2%. Optimum operation temperature: 50-55℃;
pH stability–maintain the relative activity of the enzyme above 90% between pH 4.5-5.5.
Optimum pH: 5.0
Mechanism
Hydrolyze the β-galactosidic linkages in lactose molecules to produce glucose and galactose.

Applications
Lactase Enzyme is mainly used in the dairy industry. The low-sweetness and low-solubility lactose can be converted into sweeter, more soluble monosaccharides (glucose and galactose). The possibility of precipitation of lactose crystals in ice cream, condensed milk, and evaporated milk is reduced, and sweetness is increased at the same time.
In the fermentation and baking industry, lactose, which cannot be utilized by general yeast, can be hydrolyzed into glucose.
A certain number of infants have diarrhea after feeding milk due to a lack of normal lactase in the intestines. Therefore, many countries often add lactase to milk for infants to drink.
| | | |
| --- | --- | --- |
| Food Name | Amount of Use(g/kg) | Method of Use |
| Pasteurized milk, sterilized milk, and modified milk | Appropriate use according to production needs | Add directly |
| Milk powder (including sugared milk powder), cream powder and its recombined products | Appropriate use according to production needs | Add directly |
Specifications
Activity: 100,000U/g; White Powder
Package: Sealed in aluminum foil bag, with a fiber outer drum
Net weight: 1kg*20/bucket
Storage
The product should be kept in a dry place under 15 ℃ and avoid direct sunlight.
Shelf life: 24 months.